Almost 300 guests of the Metropark Hotel who were quarantined as a precaution against H1N1 virus might have been inconvenienced - some even had to miss their flights - but they have more than one reason to smile now.
In a bid to maintain Hong Kong's reputation as a hospitality metropolis, the city government promised to rearrange departure flights for all 274 hotel guests, as it apologized for the inconvenience Monday.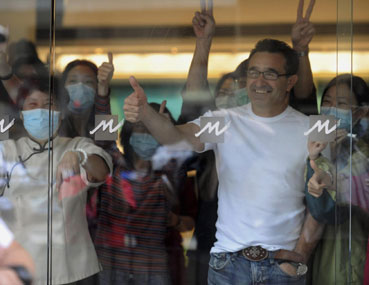 Hotel staff and guests gesture behind a lobby window to staff from the same hotel group who are giving them support in Hong Kong May 4, 2009. [Agencies]
The Immigration Department has been directed to extend the guests' visas if they expired during the quarantine period.
The guests have also been offered free stays at other city hotels, calling cards, a travel card each valued at HK$100 and a free ride to the airport.
If that wasn't enough, each of them will today also get a "gift set", with free movie coupons and admission tickets to Ocean Park, Hong Kong Disneyland and Ngong Ping Cable Car.
"The most important thing is to let our tourists take back with them a good experience of Hong Kong," said Secretary for Commerce and Economic Development Rita Lau Ng Wai-lan.
"We apologize for all the inconvenience caused, but this was an inevitable exercise."
All 23 passengers on board the same flight as a Mexican, who was confirmed to be infected with the flu, tested negative to the virus, officials said, adding that the patient's condition was now "stable".
Hong Kong Tourism Board Chairman James Tien said though there have been a few overseas enquiries about the situation in Hong Kong, the flu has had "limited impact" on tourism.
"The total number of visitors between May 1 and 3 recorded a slight drop of 0.9 percent."
Under Secretary for Food and Health Gabriel Leung reiterated that it was important to contain and curb the spread of the virus after the first case of H1N1 flu was confirmed in the city.
No new cases of human infection were reported as of yesterday. Three test results are pending.
The government is still trying to trace another 46 people who stayed in the Metropark Hotel at the same time as the Mexican who tested positive.
The taxi driver who drove the Mexican from the hotel to hospital was traced yesterday and was sent to the Lady Maclehose Holiday Village for quarantine even though he didn't show symptoms of the flu.
Source :
China Daily
[tags :
malaysiahotelnews
hotels
malaysia
resorts
news
travel
tourism
travel
tourism news
]